Hair On Wheels Is A Mobile Hairstyling Company
We provide a professional styling service at your wedding site, whether it is your local chapel or a mountaintop.
It's Your Day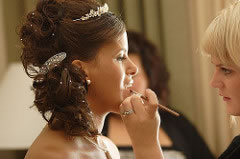 On the day of your wedding we travel to your wedding site, working around your schedule, and style you and your party's hair. We are extremely versatile in styles, techniques and hair types. More than any other bridal service, Hair On Wheels can help make it your special day. Consider all the details taken care of.

Manicures and a make-up artist can also be arranged through Hair On Wheels.
We Can Accommodate Any Size Wedding Party
Let us eliminate the stress and hassle that tends to occur on your wedding day. We accomplish this by coming to you, prior to your wedding, and conduct a thorough individual consultation and practice session. Together we will plan your hairstyle for your big day. We realize your wedding will be one of the most special days you'll ever experience so let us attend to the details.
Why We're Different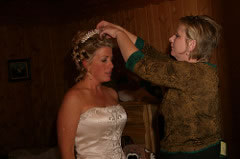 We have many years of experience delivering mobile hair services, including serving brides and their wedding parties in a mobile capacity. All of our stylists are licensed cosmetologists. We are also fully insured and use only professional-grade equipment and products. Our staff keeps up on the latest industry developments by attending seminars several times a year to learn the latest styles and techniques.
Send Us Your Reservation Information
Click the Make Your Reservation button below to open the form where you can fill out the information needed to reserve Hair on Wheels for your wedding.
After you submit the form we will contact you regarding availability and pricing.
We look forward to helping make your wedding a lasting memory!
Make Your Reservation Deposit
You should send us your reservation information before you make a deposit. If you have not already done so, click the Make Your Reservation button on the left.
Click the PayPal button below to make your wedding reservation payment of $100. You can pay by credit card and you do not need a PayPal account.
You will be directed back to the Hair on Wheels site when your transaction is complete.